Top posting users this month
Top posting users this week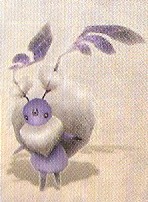 FURY
Location Necrohol of Nabudis
Being a wrathful spirit in the body of a dreamhare living in the Necrohol of Nabudis, its astonishing power made all the more startling by its demure appearance.
None know the limits of its strength. Indeed, many are the great creatures of legend who have lost their lives to this furry terror.
As cruel as it is cute, it stalks the shadows, looking for worthy opponents against whom to test its mettle.
Believe that any thing you Imagine. You can make it Real
Forum Rules
What shall i code now? Suggestions? PM ME
'' Damn ... my hand is hurting ...'' Ryoko muttered and turned up his gaze. This aura. The skies were dark black, it was raining quietly and lighting was showing it's raw power. The ruins of a former city, Nabudis, were indeed a place to call Necropolis.

'' Now, where are you Fury!'' He told in his mind and started searching for his prey.

'' That fury ... the report told that he is quite damn skilled ... I think I will go all out from the beginning!'' He continued and unseated his bastard sword, just in case.

Juss

Veteran Member





Number of posts

: 1368


Age :

26


Location

: Costa Del Sol ( Estonia)


Usertitle :

The Grand Archmage of Guild of Mages!


Registration date :

2009-03-12



The Fury hops around a crumbled tower, and looks around for a second, then spots Ryoko, and hops at a furious pace towards him, Lunging forward with great force, a small screeching sound can be heard from it

Guest

Guest





'' What the heck?'' Ryoko shouted when he noticed a small source of huge power moving towards him. The speed, it was almost abnormal. Instantly, Ryoko used flash step to move behind his enemy and slash with his sword.

'' Who the hell are you?'' He asked with powerful and loud voice.

Juss

Veteran Member





Number of posts

: 1368


Age :

26


Location

: Costa Del Sol ( Estonia)


Usertitle :

The Grand Archmage of Guild of Mages!


Registration date :

2009-03-12



The Fury Dodges the slash easily and Lunges forward in response, hitting Ryoko once, and then it screeches and hops back and casts an amazingly quick fireball spell at Ryoko.

Guest

Guest





'' The Fury ... at that speed and that accurate ... who the hell is he?'' Ryoko told in his mind. Blood, it spilled out from his chest. The wound was two inches deep and went straight over his chest. Something as huge as that caused by a mere melee attack. Instantly, there was only pain. The picture, it got blurrier. The fireball, it also landed a direct hit. Flames and heat, it burned as hell.

'' Damn...'' Ryoko roared like a beast. His right hand, it was totally burnt. He had used it to reduce the damage to his body.

'' Geez ...'' He muttered and tried to move it. No use, it didn't react. And then he slashed, his own hand. It dropped down, all black. The moment it touched the ground, it fall apart to ashes.

'' It was more like a burden anyway! The fight is going to start now.'' Ryoko shouted with his extremely loud and powerful voice. The bravery and power to stand pain, it was something that only high ranked ninja's were able to do. In the same time, he was feeling pain that was demolishing even his cold mind.
This time, Ryoko's flash-step was twice as fast as it had been. And he hit. The same moment the sword tip was going to touch his enemy, a shuriken flew out from the top of bastard sword.

'' Gotcha'' He shouted. If the blade was going to miss, the shuriken was going to hit it's target anyway.

Juss

Veteran Member





Number of posts

: 1368


Age :

26


Location

: Costa Del Sol ( Estonia)


Usertitle :

The Grand Archmage of Guild of Mages!


Registration date :

2009-03-12



The fury dodges the blade, but is hit by the Shurinken. Its Screeches out very loud and hops away a few feet really quick, and turns, lunging at the opponent with more force before, screeching like a maddened wild animal

Guest

Guest





Fury was moving straightly towards Ryoko, ready to lunge him. He raised his bastard sword to block the hit, but it was no use. The hand of Fury smashed trough the blade towards the chest. The top of blade flew trough the air more than 10 meters away and Ryoko had nothing left to do. The hand, it pierced trough his chest.
'' Argghh ...'' Ryoko roared with his fragile and destroyed voice. Pain, it was unbearable. He felt how blood filled his left lung. He coughed and noticed how a small pond of blood was appearing under him.
'' You bastard ...'' He than muttered. There was no power left to shout at Fury. The Fury dashed back and was waiting for his enemies reaction. But Ryoko was just standing still, fighting with death to overcome it once again. His eyes were dark red, filled with blood. Sweat was dropping from his partly burnt face. And then he fell to his knees.
'' Fuck ... Oh well, I guess it's over for you ...'' He told with the last remaining power he had and burst up. He started glowing softly and new energy started flowing in his veins, energy of something unearthly.
'' This is the end! The Angel of Life and Death!'' The land started shaking and the darkness got even more dense. Fury was frozen in the darkness and Ryoko was standing in front of the little but raging beast. Ryoko's gaze, it was as deadly as the limit break he was using.
'' Good bye!'' He told with victorious voice and from behind him came something dark and fearful. The angel of death. And then Fury fell down. The darkness disappeared and Ryoko fell down, almost collapsing under his own weight.
'' High potion ...'' He muttered to himself and used a high potion. He felt how a bit of energy came to his dry body, but it was nothing useful as he was still fighting to remain conscious.
'' Now ... I have to get out of here ... Takano!'' He shouted. The voice, it was weak and shaking. And suddenly a woman with blond hair appeared and smiled to Ryoko. She was as beautiful as an angel, maybe even more.
'' You shouldn't have used your limit break you know ...'' The woman told with her soft and gentle voice and raised Ryoko up.
'' I wouldn't have beaten fury without it ... I'm getting old after all Takano.'' He told and totally collapsed under the exhaustion caused by both, the wounds and the limit break he used.
OOC: -1 high potion + My char is out of power for a week


Juss

Veteran Member





Number of posts

: 1368


Age :

26


Location

: Costa Del Sol ( Estonia)


Usertitle :

The Grand Archmage of Guild of Mages!


Registration date :

2009-03-12



Congratulations! You bested the demonic beast known as the Fury! Very few have been able too. be proud of yourself strong warrior!

Gil won: 600 gil


Guest

Guest





---
Permissions in this forum:
You
cannot
reply to topics in this forum